This is a Guest blog post from Ling Zhang, Senior Manager at Dixon Hughes Goodman LLP. She covers a lot information which is extremely valuable for small businesses.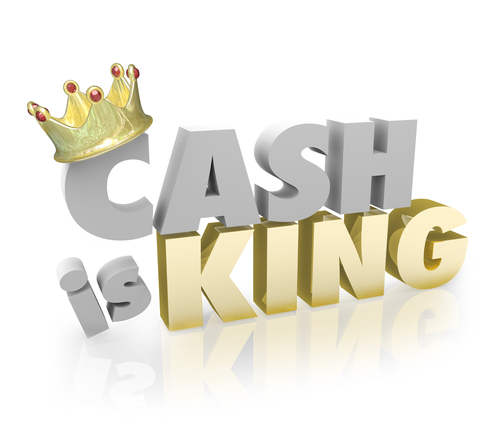 "Cash is King" for businesses, especially when they are drifting in the rough currents due to COVID-19. What can technology, services, and life science companies do to survive the challenges and thrive through oppotunities in the current economic conditions? Here are a few considerations for innovative companies to manage cash flow since the pandemic's inception.
Utilizing the CARES Act and New Laws and Legislation
Businesses have been following new legislation closely and, when possible, taking advantage of cash flow assistance from the federal government to increase liquidity. The following is a list of programs created by the CARES Act that support small businesses:
1. Paycheck Protection Program
As part of the Coronavirus Aid, Relief, and Economic Security (CARES) Act, Congress had appropriated $349 billion for the Paycheck Protection Program (PPP), providing loans of up to $10 million to certain qualified small businesses, and also offering forgiveness for
all or a portion of the loan. As the first round of PPP funding has been utilized, a new funding package has been approved for the PPP for $480 billion, which appropriated an additional $320 billion for the PPP.
The new funding package, passed on April 24, 2020, also includes $60 billion for the Disaster Loans Program and Emergency EIDL Grants.

2. Small Business Debt Relief Program
This program will provide non-disaster Small Business Administration (SBA) loans, specifically 7(a), 504 and microloans not made under the PPP. Under this program, all payments on these SBA loans, including principal, interest and fees, are covered by SBA for six months.

3. Economic Injury Disaster Loans & Emergency Economic Injury Grants
The program provides loans up to $2 million and emergency advances up to $10,000 that are not required to be repaid.
The CARES Act also has the following tax provisions available:
1. Employee Retention Credit
A refundable payroll tax credit for up to 50 percent of wages paid to certain employees is available to eligible employers during the COVID-19 crisis through Dec. 31, 2020. This credit is not available to employers receiving
2. Delay Payment of Payroll Taxes
Taxpayers can defer paying the employer portion of certain payroll taxes during the period beginning on the Act's date of enactment and ending on Dec. 31, 2020. Half of the deferred amount is due on Dec. 31, 2021, and the other half is due on Dec. 31, 2022. For PPP loan recipients, the Internal Revenue Service (IRS) FAQs1 clarify that taxpayers may defer the employer portion of Social Security on wages paid between March 27, 2020, and the date which the lender issues a confirmation of loan forgiveness for the recipients' PPP loan.
3. Other Tax Provisions to Accelerate Cash
Other tax provisions include correction of Qualified Improvement Property depreciation; use of excess business loss and Net Operating Losses; and use of Corporate AMT Credits. Consulting with a tax professional may help increase cash flows through maximizing tax refunds and tax planning for the business. Please reach out to your tax advisor to evaluate possible solutions as these may be complex decisions.
4. Main Street Lending Program to Provide Liquidity to Small and Mid-Size Businesses
These four-year term loans are for companies that have less than 15,000 employees and $5 billion in revenue and have a minimum loan size of $1 million. The loans are generally available even if you have received a PPP loan and there is currently no indication of "affiliation" rules that disallowed many private equity portfolio companies from eligibility for the PPP loans. The loan size is generally based on a multiple of 2019 earnings before interest, taxes, depreciation and amortization (EBITDA), which can be adjusted as permitted by lending institutions, and includes existing debt.
The Families First Coronavirus Response Act (FFCRA) also provides refundable tax credit as follows:
Eligible employers are entitled to refundable tax credits for qualified leave wages that are paid, during the period beginning April 1, 2020 and ending Dec. 31, 2020, for specified reasons related to COVID-19 under the FFCRA.
Federal and state governments are continuing to evaluate
additional assistance to businesses.
Turning Challenges into Opportunities
Many leaders of technology, life sciences and service companies, including technology giants and small businesses, have pivoted during the pandemic in different ways by identifying opportunities, and taking immediate action to generate cash to secure a future for their employees while contributing, in their own unique way, to find a vaccine.
Examples include life sciences and medical device companies developing and selling antibody or COVID-19 testing kits; tech manufacturers making ventilators; SaaS software companies offering free HR applications to help manage the health and safety of employees; cyber security information technology services companies developing tracing technologies and providing services to help mitigate cyber security and privacy risks of work-from-home arrangements; services firms providing assistance on the interpretation of new legislation; and more.

Managing Cash Flows
Tech and life sciences companies should also assess key performance indicators (KPI), monitor budget versus actual analyses more closely and frequently, and deploy a plan to manage cash flows through the pandemic and beyond. Companies can consider the following areas to manage internal cash flows in response to the current environment:
1. Accelerate accounts receivable collections through active collection efforts and/or evaluating new technologies to allow customers new payment methodologies;
2. Manage vendors by initiating dialogue and negotiations with extended or delayed payment terms;
3. Classify expenses by variable versus fixed, and consider plans to cut spending on variable expenses where possible. Seek concessions on fixed expenses such as rent abatements, delay in payments, or extended payment terms;
4. Evaluate plans to reduce salary expenses including furloughs, salary reductions, and/or a reduction in force;
5. Seek additional financing opportunities through loans or use of availability on lines of credit;
6. Revise and develop new cash flow forecasts from operations for various scenarios – three-to-six months or even longer if necessary.
As a Senior Manager in the DHG Technology practice, Ling Zhang works closely with client management and C-suite executives to provide audit, financial accounting advisory, and risk advisory services to multi-national publicly-traded corporations and private companies with revenues ranging from $10 million to $50 billion. She advises clients on SEC filings, complex debt and equity transactions, merger and acquisition, new accounting guidance implementation, internal control system design and implementation, and financial statements reporting and disclosures. She can be reached at ling.zhang@dhg.com.