One of my greatest sources of joy is being able to get into the classroom and interact with groups of smart, ambitious, idealistic people.  I love the energy, the passion and creativity that awesome academic institutions like Georgetown foster among their students.
I was invited by my good friend, Professor Jeff Reid, head of Georgetown University's Entrepreneurship Initiative at the McDonough School of Business to speak to his MBA class today about the "Power of Entrepreneurship."  Jeff is a national leader and pioneer in Entrepreneurship education, having built one of the world's top entrepreneurship centers at UNC; and now he's building an amazing entrepreneurship program at Georgetown.
Jeff (@hoyapreneur) tweeted "Identify a real painful problem and solve it"pic.twitter.com/W9iUVk8t when I talked about how and why I started Unitel/CyberRep.  (Short version: My co-founders and I worked in sales and we HATED making cold calls.  We figured that if we found making cold calls very PAINFUL, then many others would too, so why not start up a business that specialized in making cold calls? That's what we did!)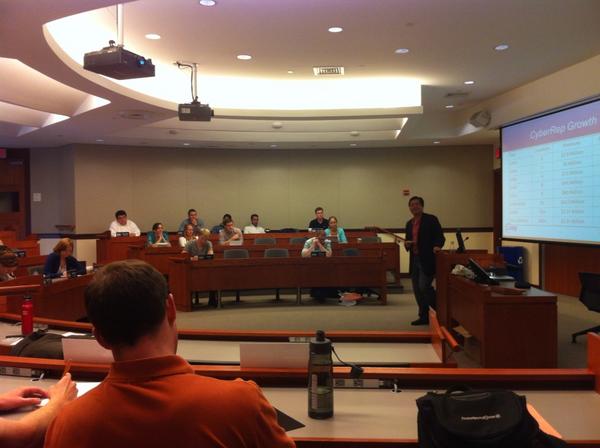 Georgetown U presentation Sept. 26, 2012
The class consisted of about 40 MBA students, about 2/3 of whom intend to start their own business either now or in the future.  I only got through about 20% of my originally planned remarks because of the questions and great dialog that ensued.  We covered a lot of ground including making a go/no go decision on starting a company, sacrifice and hard work, life balance, challenges of growth, dealing with employees who can't keep up, getting inspiration to start a business, doing business in Brazil…and China, etc.
I am fortunate to speak at MBA and undergrad classes at Georgetown and Maryland relatively often.  Just last week, I spoke in Professor
Will Finnerty's
class on Entrepreneurship, one of the highest rated and highest demand classes at the
McDonough School
.  
Will teaches as much about life as he does about business, with a focus, passion, and attention to detail which I have rarely seen in a classroom.
Always, I end my talks in the classroom with a slide entitled "Advice for Aspiring Entrepreneurs."  Here are the bullet points:
Integrity
Do it now
Great people
Focus (on your customer)
Be flexible
Build a culture early
Be persistent
Overcapitalize
Have FUN!